Events in the month of December 2021
Saturday, December 4, 2021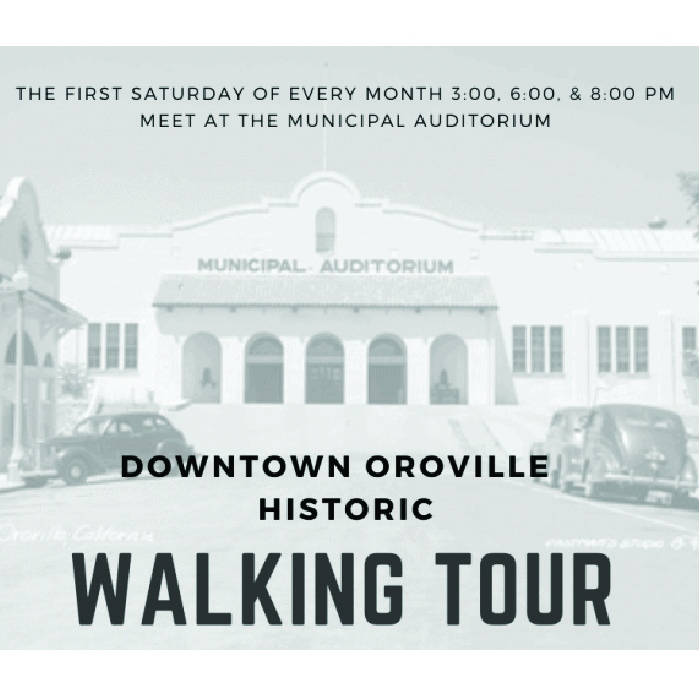 Step back in time
and discover Oroville's rich and racy history on the first Saturday of every month with your guide, Daniel Ballard. Daniel, a member of the Butte County Historical Society, has been serving as a docent and collecting stories from local historians since the age of 15. He is truly passionate about Oroville's history and making it accessible to the community. This is also a great opportunity to get out and see all of the revitalization efforts and new businesses in Downtown Oroville.
Downtown Oroville Historic Walking Tours are
free
to the public, but we encourage you to
tip
your guide if you are able.
When:
The first Saturday of every month – 3 pm, 6 pm, and 8 pm
Where:
All tours start at the Oroville Municipal Auditorium.
Questions:
Call
530-764-9262
more info...
---
Wednesday, December 15, 2021
Alzheimer's & Dementia Caregiver Support Group - Oroville
DAY:
3rd Wednesday of the month
TIME:
2:00-4:00pm
FACILITATOR:
Kindra Dantanavatanawong
Build a support system with people who understand.
Alzheimer's Association support groups, conducted by trained facilitators, are a safe place for care partners of people living with dementia to; develop a support system, exchange practical information on challenges and possible solutions, talk through issues and ways of coping, share feelings, needs and concerns, and learn about community resources
All groups are meeting virtually at this time, join online or by phone. Meeting information will be provided upon registration
.
Pre-registration required, register by calling 800.272.3900 or online at alz.org/crf
more info...
---